prosečna cena: oko 1 150 din.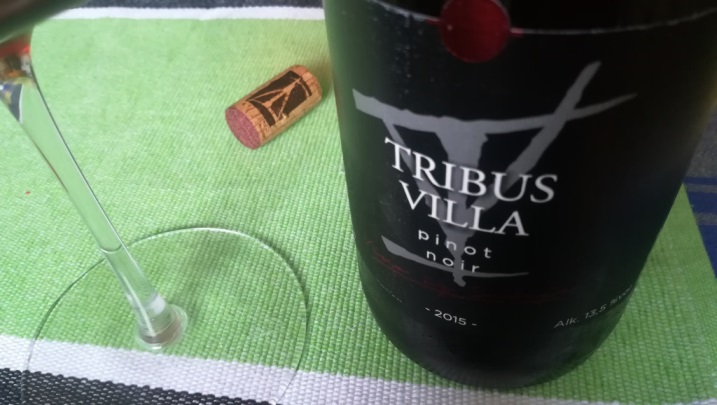 Ne sećam se da sam skoro video ovako prozirno crveno vino. Ipak, iako sasvim, sasvim nežna, lepa je to boja, karakterna, daleko od anemične.
Posle svega pola sata dekantiranja, miris se lepo razvio. Lep, izrazito voćan, intenzivan. Snažan, pomalo divlji, ne sasvim artikulisan. Neupeglan.
Sa druge strane pak (rečca pak se nikada ne odvaja zarezima) zatamnjen, zagasit, ako mogu tako da kažem. Blagosladunjav.
Ima tu nekih šljiva. Suvih ili sasvim zrelih ovih "običnih" – ne uspevam da dokučim. I tamnog sitnog voća, bobičastog. I valera hrasta, vanile i tamne čokolade.
Pomalo jednoličan, ali, rekoh, sasvim prijatan miris.
Jedra voćna svežina u ustima. Prodorna. Proseca glatkost i mekoću lakog tela, kojem nedostaje – i to bi bila najveća moja zamerka – punoće.
Završnica kraća, lišena velikih pretenzija.
Ipak, dovoljno dobra da potvrdi utisak o Tribus villa pinou kao o jednom sasvim dobrom vinu, vrednom pažnje svih ljubitelja ove zahtevne i za uzgoj veoma teške sorte.